REDA members answer the call to combat ongoing challenges and co-build a better Hong Kong
Donation of millions of test kits and Covid-care packs for frontline medical staff and needy people. Thousands of hotel rooms. Provision of tens of hectares of land for use as community isolation facilities and mobile hospitals for Covid patients. They are amongst some of the actions taken by REDA members to help Hong Kong people endure the ongoing challenges of the epidemic. 
The Real Estate Developers Association of Hong Kong (REDA) Executive Committee Chairman Stewart Leung said, "The epidemic has hit every individual from every sector of society, so our members are totally united in their commitment to doing whatever necessary to help the community withstand the prolonged storm brought by Covid-19. Hong Kong is our home and we care for this city. We fully support the Government's result-oriented approach in strengthening the community against the strike of the epidemic and preserving Hong Kong's competitiveness in the global order."
REDA President Keith Kerr was encouraged by the response received from members to this challenge, "From a single call out, we immediately received hundreds of replies with a host of creative solutions to provide relief for HongKong people."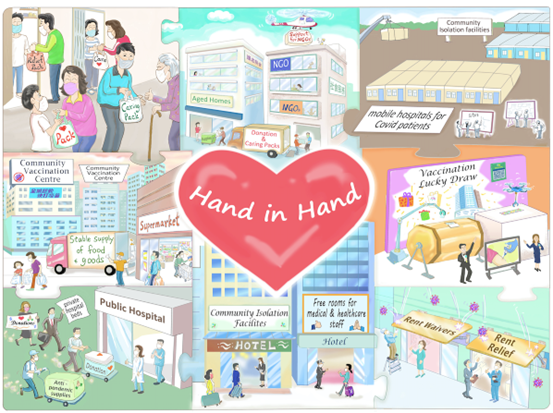 Hand-in-hand. REDA members have come together to distribute truckloads of masks, RAT kits, food, medicine and back-to-school care packs through their associated supermarkets, chain stores and networks as well as major NGOs. They also provided a vast amount of property for use as community vaccination centres, isolation facilities, mobile hospitals for Covid patients, and hotel rooms in addition to hundreds of millions of dollars in donations, rental waivers and lucky draws in an effort to reduce the anxiety felt by people from all corners of the Hong Kong community.
Members of REDA have been quick in stepping up to help meet the needs of the community from the early critical stages of the epidemic through to today, well over two years later. That included a donation of masks, rapid antigen test kits, sanitizing products, food, and back-to-school care packs. Through their own network and a diverse range of NGOs, members ensured that their efforts have reached all corners of the community, from frontline medical practitioners to underprivileged children and their families. In addition, an online resource matching platform has been made available in connection with a sizeable eight-digit figure donation to address a range of community needs.
Our members ran the extra mile to ensure a stable supply of food, medicines and anti-Covid resources remained as stable as possible through associated supermarkets and chain stores. Two parcels of land at Yuen Long and San Tin were offered to the Government for building temporary cargo transfer yards to support the establishment of centralised cargo transfer points for non-fresh food items and other goods from the Mainland.
In addition, over a million square feet of land have been provisioned by concerned members for the construction of community isolation facilities in Tam Mi and San Tin as well as mobile hospitals for Covid patients in Tai Po and Fanling. Other members made their contributions in the form of donations to the Covid-19 Relief Funds to support the operation of these very important facilities.
To step up efforts in preventing the spreading of the infection and building up a stronger barrier against the disease through vaccination, over 5,000 hotel rooms were made available by our members for repurposing as community isolation facilities; premises were turned over for use as community vaccination centres and other medical and emergency purposes. On top of community outreach programmes and health talks in key locations across the city, our members also joined hands with the Government to tackle the challenge of vaccine hesitancy by offering an apartment, gold bars and various other attractions through lucky draws as incentives for more people to take the Covid jab.
Financial assistance has also been crucial for people and businesses affected by the epidemic. In response, rental concessions and in some cases full waiver, have been offered by our members to those businesses forced to suspend their operations due to anti-epidemic measures. A member doubled the proceeds raised by a Covid-related charity initiative. Moreover, timely donations were made by members to sponsor private hospitals in providing urgently needed medical help to patients in a bid to shoulder the burden of public hospitals, while financial sponsorship was offered to the Hong Kong Children's Hospital to purchase equipment. Substantial subsidies were also provided to elderly homes to help cover their anti-Covid expenses.
Life has been difficult for a lot of people during the past two years in this unprecedented epidemic, but Hong Kong is a community strongly bonded by mutual care and readiness to reach out to each other. With this belief and in the spirit of building a better Hong Kong, REDA and its members will continue supporting our citizens in need to weather this storm.